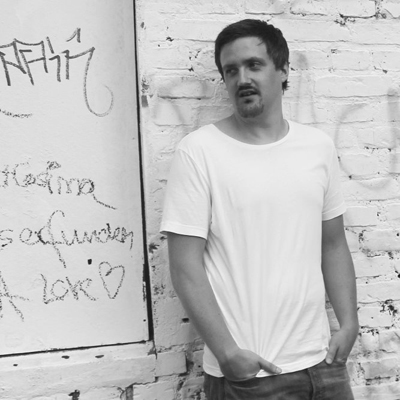 Marc Poppcke's life is all about music. Although he appreciates to produce tracks, loves to remix and knows that his productions are cherished, Marc is foremost a DJ. To play the decks is what he is living for. And this is what he has been doing for over a decade now.
Marc originates in the rather small German town Hildesheim in the middle of the country. Growing up in the mid-90s, his major music influence was the German radio show 'HR 3 Clubnight'. Listening to the vibes of the electronic music scene he soon became official bookings in local clubs. His performances on the turntables managed him to become resident part of it. Back in 2000, he had started to be a DJ and developed a fan community, which got him DJ at Hanover's electronic music club 'H.de.M.' from 2001 until 2003. DJing at this club was an important chapter in his life: He often got to play warm-up sets for well-known artists and learned much of what characterizes his music style nowadays. From 2002 untill leaving the city he also worked in a vinyl record shop called 'Street Sounds' becoming an expert about what the music world kept ready. Then, the native of Hanover made his way from the middle of Germany to the metropolis of music in September 2005: In Berlin he studied at the School of Audio Engineering (SAE) and graduated in 2008 as a Bachelor of Arts. On the musical side, he started to work together with Daniel Solar initiating the project 'Solar & Poppcke' in the summer of 2007. As production partners they already have released many tracks and remixes on labels such as 'Diynamic', 'Plastic City' or 'Meerestief' to name only a few. In April 2011 he finished his studies at the Berlin University of the Arts as a Master of Arts.
Now, Marc is about to break through as a solo artist and DJ in his own right. His blend of soulful, groove-laden deepness has won him an army of admirers. His solo releases and remixes for labels including 'Last Night On Earth', 'Sudbeat', 'Freerange', 'Defected', 'Soma', 'Darkroom Dubs' or 'Parquet Recordings' have found support from the scene's biggest names. This year, Marc will continue to spread the good word and whet the clubbers appetite by sprinkling his magic dust over remixes and productions. Playing in clubs like 'Watergate', 'Sisyphos' or 'Ritter Butzke' made him become an integral part of the Berlin club scene. By now he has had a lot of international gigs all over Europe showing his vision of electronic club music. Even more, his latest turn has been to set up his own label 'Crossfrontier Audio' in September 2011.
No musical boundary holds him at bay to surprise the people on the dancefloor. He is always searching for the striking impulses in club music to turn the hours on the dancefloor into special and lasting moments. He loves to play long DJ-sets benefiting from to be able to show a total range of his choice of music. His style is sometimes House, other times it's Progressive or else it's Techno. Who cares? – Marc doesn't because it's always about the four to the floor. And whenever the crowd thinks he got his style he is already up for something else. Marc Poppcke is a DJ on his way to conquer the world's electronic music clubs.
Fallow Marc on Facebook