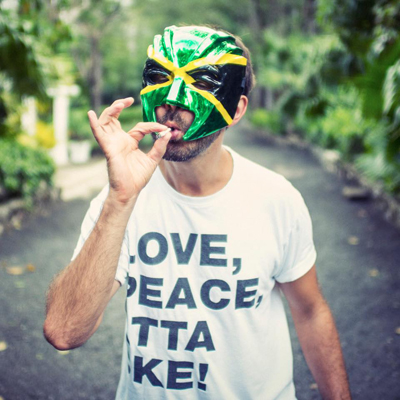 He is a man of many names: K-Paul, Käosklub, Fuchs & Horn, Kai Paul from East Berlin and K-Paul, one half of Lexy & K-Paul. The dance music duo was founded in the 90s, during the golden Age of techno when the Love Parade was still hip, the Internet not bad yet, when parties were somehow more laid-back and minimal was not the hot shit yet. Freak. The Greatest DJ. Electric Kingdom.
K-Paul proved himself as an expert studio wizard shaping the sound of the world's most enduring and dynamic techno-electro-duo ever. He then decided to make an appearance not only as a producer and DJ but also as a performer. Not taken seriously at first, he needed to get the necessary stage experience. Is that possible? From club to stage? So without being a boring laptop nerd, he banged out what his MPC offered. At huge dance music events like Mayday, Love Parade, Time Warp, Sonne Mond Sterne the rock element was successfully integrated. And then, other remarkable things happened: 4 studio albums, Echo award fame, business trips around the world, liberation from his long-time mentor Westbam, new label, finding new fields of possible music realms.
The duo Fuchs & Horn became the experimental field for music that does not really fit with Lexy & K-Paul. Some remarkable tracks emerge, for example "Störenfried" and "Es tropft". Their performance concept appeared to be more underground than before: Kai Paul seeked tension in choosing questionably legal locations and realized that masks on stage can be sexy.
Kai Paul's next evolutionary step was called Käosklub. At first, the threesome pretended to be chaotic, but they knew very well what they were doing. Kai Paul is accompanied by Mr. Kaldirim and Mr. Horn. Both are rather shy guys but mutate into veritable berserkers in the club. Electrified on stage, they bang out natural hymns like "Pas de temps" or zoological tracks like "The cat".
Beside Kai Paul's artistic claim and professionalism, fun is the main focus on each and every project he does. This is something that no "How-to-become-an-entertainer" guide can teach you. Kai Paul always follows the motto: You can only bring fun to the audience when you love what you do. "We were never boring because we were never bored". Kai Paul does not want to arrange himself in a cozy studio to reign over his machines. He is drawn to any imaginable live situation. It doesn't matter to him whether there are 20.000 festival visitors or 200 sweaty figures in a dark cellar. See ya. Here or there.
Follow K-Paul on Facebook