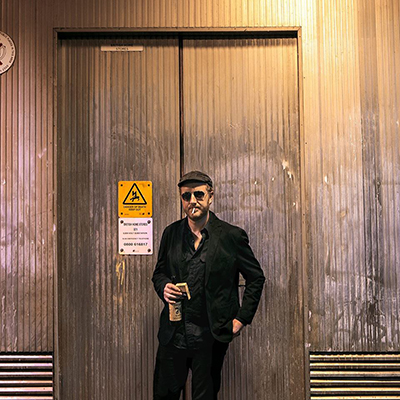 It's not important you know, the past, there's some I'm proud of, yeah, but a lot of them, really, when I hear them I think they are just a lesson in must try harder. What's important is the next one, trying to make that perfect tune. That's what drives me on.'Using Belfast as his base Kieran plys his DJ trade in the best clubs worldwide, over the past decade or so Phil has gained his reputation as one of the finest club DJs in the world. He brings the same drive, conscientiousness and desire for each set to be the very best to his DJing,
Phil has worked with many top musicians and DJs including Peter Hook, Gary Numan, Green Velvet, Speedy J and David Holmes, and is rightly proud of being hand picked by Martin Gore to remix Depeche Mode's Sweetest Perfection. 'As I heard it he was only allowed to pick one person and he picked me, which is great'.When people meet Phil they might be surprised that underneath the good humor and easy charm lies the dedication and determination that has carried him so far but as he himself puts it 'I always took the attitude that this has to be the best I can possibly do, and you have to take that attitude or what's the point?'. Indeed.
When at home he loves spending his days in the studio, creating sounds from the things he has gathered up. Sometimes he's sampling drums off random disco and electro records from the 70's and 80's, at other times he's using different microphones to record shakers, tambourines, live drums, guitars, vocals, cello, anything that makes an interesting sound. Then he mixes them to create melodies through his synths and it's all processed on his vintage compressors and valve outboard gear, and through the big old battered 1970's mixing desk that dominates the room.
All in the pursuit of a different sound, something unique, and it's clear that Phil has achieved that: like many great producers he has a distinct something that means when you hear a track of his, no matter in what genre, you know instantly it's Phil.
Although when people think of Phil they immediately think techno, his releases have been as diverse as his influences, and Phil has also worked on film scores, most notably with David Holmes for the soundtrack of Steven Soderbergh's The Girlfriend Experience.Phil has released on various labels including; Skint, Soma, Cocoon, Novamute, Electric Deluxe, Snork, and his own PKR, Phil has recorded three full length albums, firstly with his now defunked industrial punk techno outfit Alloy Mental in 2007, 2009's Sssh which came out on Sven Vath's Label Cocoon, and 2013's Le Carrousell, with his new live act Le Carrousell. Through it all there's been one aim to be the best he can, and to create the best music he can.
Phil Kieran Recordings
Sometimes you want to get a record out now. You want it to be exactly what you have recorded. You want it to be mastered right. You want it to be in the formats you know it should be. You want all the tracks to be great and for every remix to be spot on. How can an artist achieve that? Start your own record label.
PKR is Phil Kieran's imprint: he's put his name on it and he stands over it. For his ears every track is a winner, every track is quality and, originally, every track started with Phil Kieran. Then he found a track by someone else who he felt as strongly about, so he released it too.
Where the future takes PKR is anyone's guess. But we do know that every single track will be worth your support.
Follow Phil Kieran on Facebook