Ricardo Baez - Forbidden Colors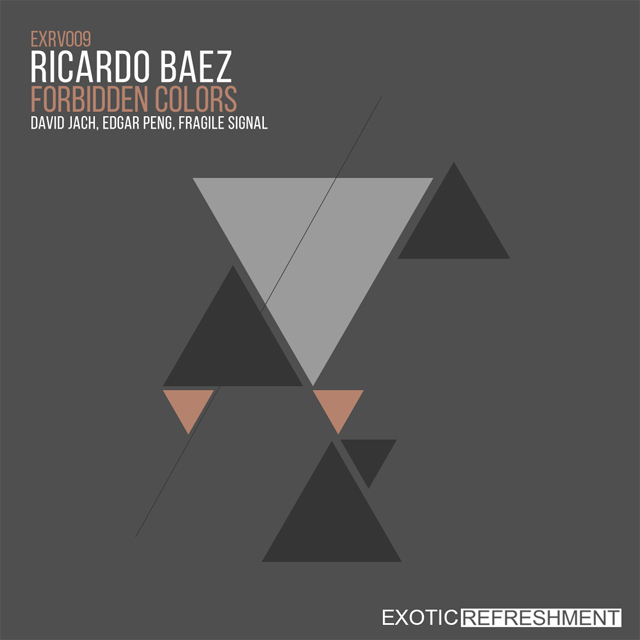 Exotic Refreshment has been doing its independent thing since 2007, releasing high quality house and techno music that gets spun by the likes of Sasha and Tensnake. Now they look to young Italian-Venezuelan talent Ricardo Baez for two new tracks that come with expert remixes by Edgar Peng, Fragile Signal and David Jach. EP is available on Beatport, Juno Download, Bandcamp, Traxsource, WhatPeoplePlay and iTunes
Inspired by Chicago house and Detroit techno, Baez debuted in 2012 and has gone on to impress with releases on Toy Tonics, as well as holding down his high profile residency at Tropical Animals.
'Butoh' opens the EP in steely, nervy fashion with skittish synths scurrying over rooted house drums. There's a shiny progressive like vibe to the synths that really suck you in and give off the air of flying through the cosmos whilst a heavenly vocal cry only adds fuel to the fire. Remixer David Jach is a someone who often has tracks in the Beatport Top 20, as well as having done an electronic concert with members of a philharmonic orchestra. His version of 'Butoh' is a stripped back and bumpy deep house cut with subtle vocals used as a repetitive hook. Chord stabs add warmth but this one is all about lo-key, high impact grooviness. An instrumental mix comes as a digital bonus.
The other original is '
I Need You
', a soft edged and supple roller with rubbery synths and rounded drums. The sound of footsteps adds intrigue to the groove and when the bassline drops again amongst the sound of rainy melodies, you really get swept up.
Berlin based Edgar Peng then turns out a deep and atmospheric remix that has whispered vocals, smeared, soulful chords and oodles of late night charm. Buy the EP digitally and you'll also get treated to a more kinetic and upright tech house re-rub by Fragile Signal.
12" vinyl will be released in May, so keep an eye on it!
Mastering of course by Exotic Mastering :-)